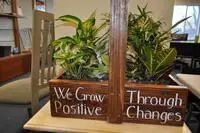 We offer:
Individual Therapy for Children; Teens; Adults;
Couples Counseling
Family Counseling
Support Groups
Parent Education Series
Positive Changes Counseling Center is a private psychotherapy practice in Towson. Each of the clinicians on staff is licensed in their discipline in the State of Maryland. Each clinician comes with experience and skills in specific areas and is passionate about helping clients grow emotionally and mentally.
Areas of specialization include:
Depression
Anxiety
Trauma and Abuse
Mood regulation
Self Harm
Perinatal/Postpartum depression
Infertility
Learning Disabilities
School related concerns
Adult ADHD
Couples Counseling
Family Counseling
Military/Law Enforcement
Parenting Support
Grief Counseling
LGBTQ
Work and Career issues
Acute/chronic medical diagnosis
Weight Loss/Gain
Stress Management
Addiction & Recovery
Conflict Resolution
Supervision
We work with a wide range of emotional and behavioral issues providing services that span from therapy for depression and grief counseling to parenting support, couples counseling and beyond. In a comfortable and supportive atmosphere, we offer a highly personalized approach tailored to each of our client's individual needs to help attain the personal growth they're striving for.
Psychotherapy has many benefits as well as some risk. The risk may include experiencing uncomfortable feelings and memories as discussing past history and experiences may occur during the therapy process. Anger, frustration, sadness and guilt may bubble up. Psychotherapy has proven to be beneficial to individuals who participate and can lead to significant reduction of the feelings of distress, increased satisfaction in relationships as well as greater personal awareness and insight. Psychotherapy requires an active effort on the part of the client during sessions and outside of the therapy session. Clients will be given many strategies and coping skills that can provide resolution to many mental health struggles.